Hry pro PC Almost Human Games
Partner sekce
Key 4 You

www.key4you.cz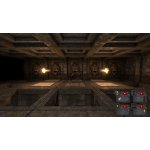 Hodnocení produktu: 100%100% (Perfektní)3 recenze
RPG, 16
Legend of Grimrock je oldschool RPG dungeon inspirovaný hity jako Dungeon Master, Eye of the Beholder a Ultima Underworld. Po vzoru prvních dvou jmenovaných her procházíte krok...
Uložit ke srovnání
Hodnocení produktu: 94%94% (Perfektní)4 recenze
RPG, 12, 1024 MB
  Legend of Grimrock 2 je pokračováním úspěšného krokovacího dungeonu Legend of Grimrock z roku 2012. Hráč si zde, stejně jako v prvním dílu, sestaví skupinu čtyř dobrodruhů,...
Uložit ke srovnání
Vybírejte ve slovenské verzi Heureka.sk: Hry na PC