Partner sekce
Key 4 You

www.key4you.cz
logické
Arabian Nights - hra se scénářem pohádek Tisíce a jedné noci z orientálního prostředí kde budete ovládat prince, který musí zahránit unesenou princeznu. Stajně jako v Prince of...
Uložit ke srovnání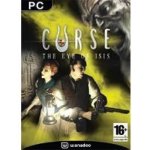 adventury, 16, 64 MB
Hra pro PC Curse - The Eye of Isis. Londýn 1890, drahocenná Egyptská soška zmizela z Britského muzea. Soška je ochrana proti staré zlé kletbě která rozpoutá chaos. Hrajte jako...
Uložit ke srovnání
Vybírejte ve slovenské verzi Heureka.sk: Hry na PC